Resin and Soul Part II: The Mix
9 min read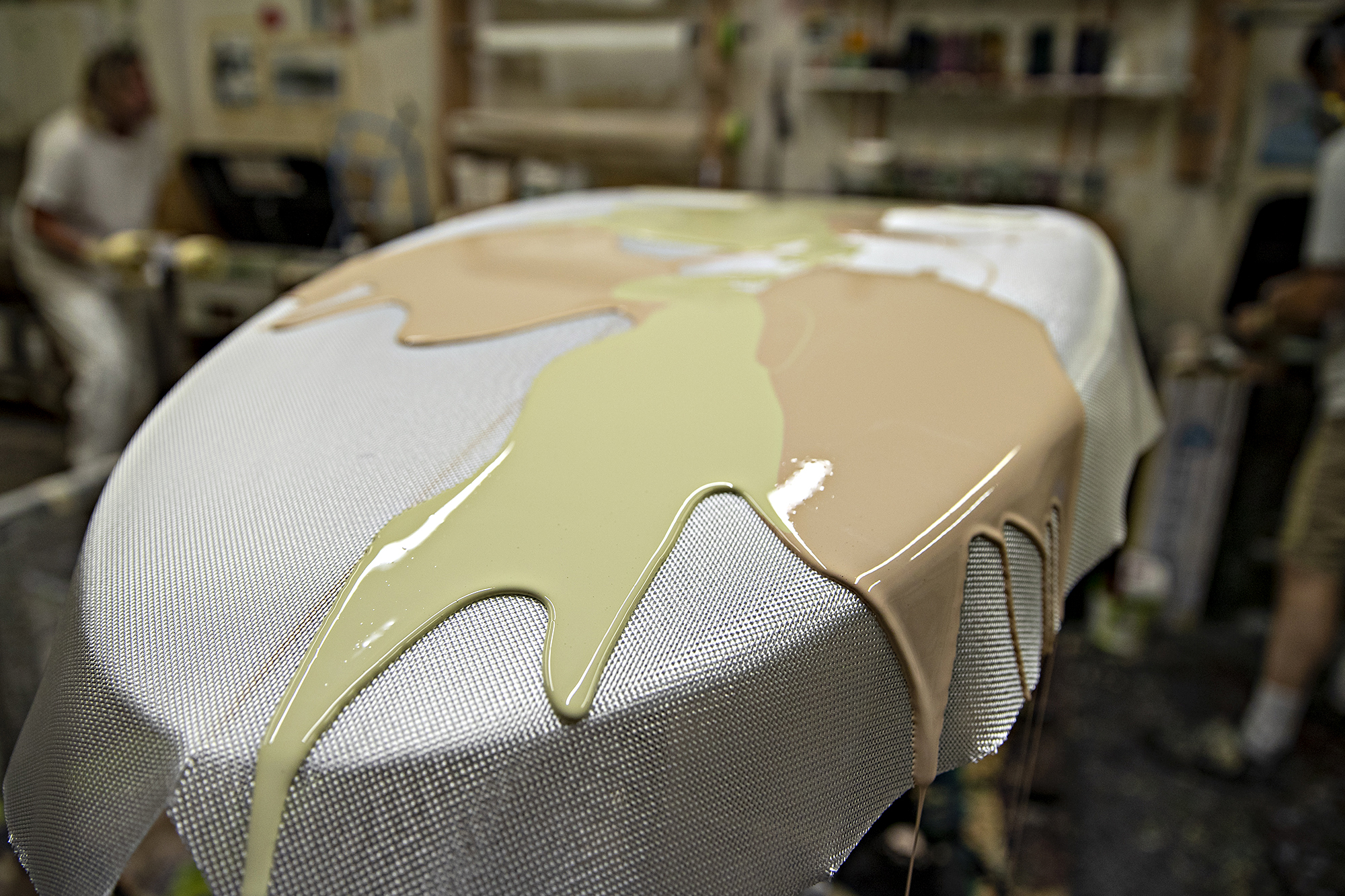 It's estimated that top-ranked surfers competing on the world tour get upwards of 80 surfboards a year. With few exceptions most are glassed clear, top and bottom, with a non-gloss, sanded finish before they're decorated with various sponsor stickers. Only the real keepers get color. 
This makes perfect sense when, every year, you're powering through a quiver that could literally fill a garage, searching for that one perfect surfboard. And make no mistake: a perfect surfboard is exactly what's needed to compete at the elite level. Yet beyond the parameters of mere purpose and performance, think about what those 80+ clear, sanded-finish surfboards represent aesthetically. Viewed through this prism, all those colorless decks and bottoms mostly reflect a need to conform. More specifically, conform to the particularly regimented style of surfing required to consistently win heats. Which is the only explanation as to why any surfer would need 80 colorless surfboards. Call it part of the price of being a pro.
But outside of the pro tour, it's clear that the vast majority of surfers look at their surfboards differently, choosing to believe that the boards they ride are a reflection of their individual approach to riding a wave; very few will own 80 surfboards in a lifetime. And a growing number of these surfers are expressing that sense of individuality by ordering a board colored with one-of-a-kind, abstract resin art. It's an aesthetic that deliberately trends toward non-conformity.
In Part II of "Resin and Soul" we profile three surfboard resin artists at the sharp end of this trend. They might pour for different labels, utilize different techniques and blend colors from different palettes, yet they're all moving in step (albeit with sticky feet), carrying forward not only the work of their ventilator-masked mentors but the desires of the many surfers today who want their boards to be as unique as each wave they ride.
***
Micaela Quiles-Kramer, Sharp Eye Surfboards, San Diego, CA
This is a story of a girl who never asked for permission. The term girl is used intentionally here, seeing as how "Mica" (as she is known by all) was only 16 years old when she first stepped onto the path that led to her becoming one of the few women working hands-on in the surfboard industry. And we're not talking about behind a desk, though that's exactly where she sat 20 years ago running San Diego shaper Larry Mabile's Cane Garden label. 
But Mica gave little thought to what people told her she couldn't do — much like when she was growing up along the Jersey Shore and told by image-obsessed locals that she wasn't allowed to ride anything but a skinny-nosed thruster. So when she packed up and headed west, setting her sights on the more liberal-minded beaches of San Diego County, Mica saw no reason why she shouldn't step out from behind the desk and into the factory.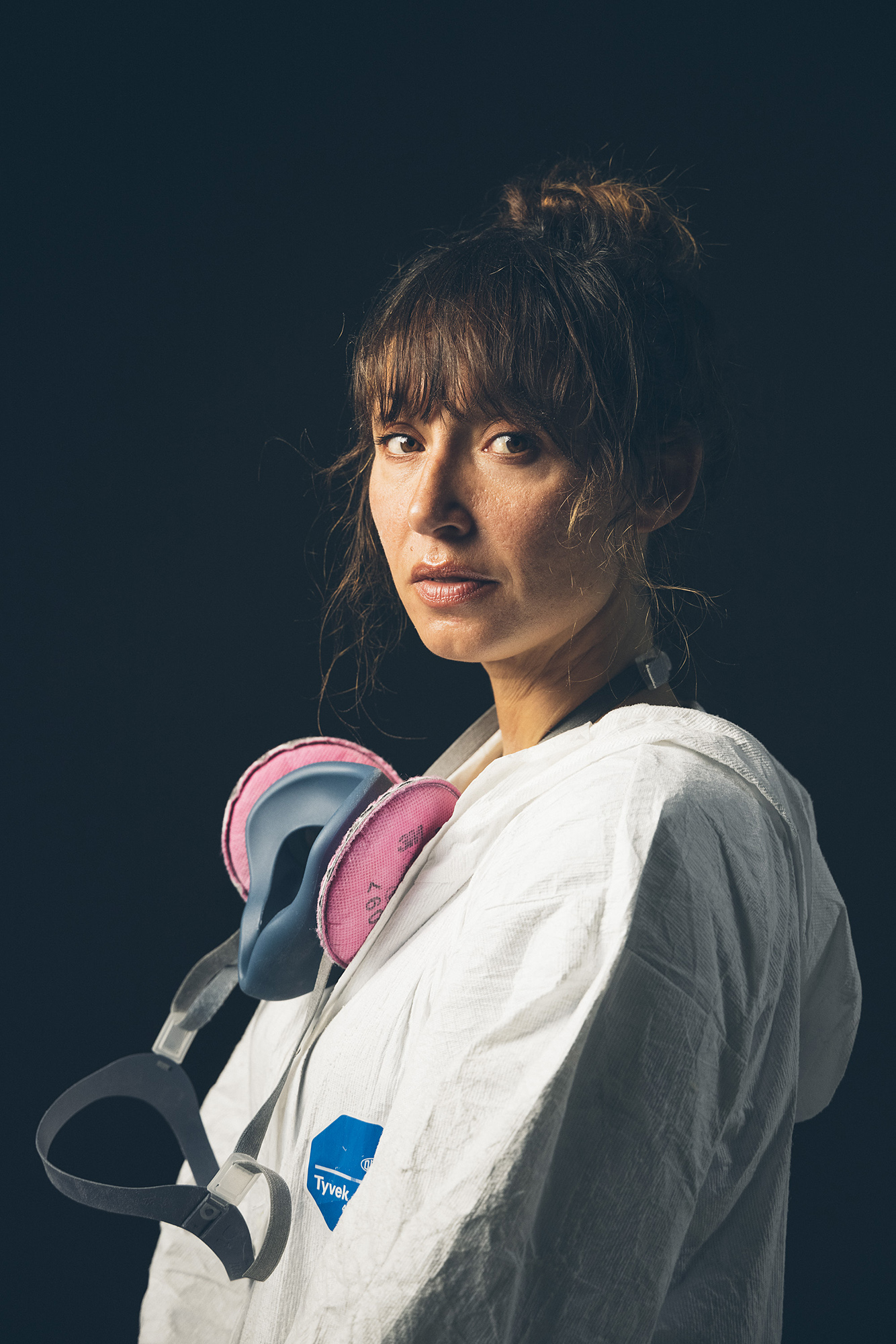 "When I first said that I wanted to know how to make surfboards, people were, like, 'Girls don't make surfboards!'" she recalls. "But then a few guys said, 'sure,' like Tom Curtis, who showed me how to hot coat, and Larry Mabile, who taught me to shape and laminate."
Then there was Bradley Beuben at G&S, who introduced the young apprentice to the art of pouring resin pigment, one of Beuben's specialties, which became the aspect of boardbuilding Mica has focused on for the past 10 years.
"I'm only about 125 pounds, so working a Skil planer all day would be exhausting," she says. "But I just really love working with the colors. It's all in the mix of the pigment colors, creating the proper combinations. And you have to get it right, because whatever hits the board first is the color you get. You can't go back and fix something. Every single time you pick up your squeegee, you're making a decision. And that's exciting."
Specializing in linear, multi-layered streak patterns and working with what a vibrant, "tropical sunrise" palette, Mica currently makes those decisions at Sharp Eye Surfboards where, in keeping with her decidedly vivacious independent streak, she continues to heckle the boy's club. In 2020, she added "machinist" to her resume, becoming the first woman to run Sharp Eye's DSD/KosBlanks computerized shaping machine. Again, without asking for anybody's permission.
***
Brian Wynn, Wynn Surfboards, Egg Harbor, NJ
Art might begin with the imagination, but eventually it all comes down to the hands. Brian Wynn knows a little something about that. Growing up with a craftsman father whose creative endeavors ranged from glassblowing to taxidermy to building custom rifles, Wynn was literally raised in a workshop with tools in his hands. So it should come as no surprise that after learning to surf along the beaches of New Jersey at the frightfully advanced age of 16, he would begin building his own boards. Just as unsurprising that, after mowing out 50 or so boards, the self-taught shaper would grab his planer, pull up the stakes and move out to the West Coast.
"That was around 1996," Brian says from the comfortable confines of his current workshop — a rustic barn where he builds boards for the Garden State's venerable Heritage label. "My attempt to further my education."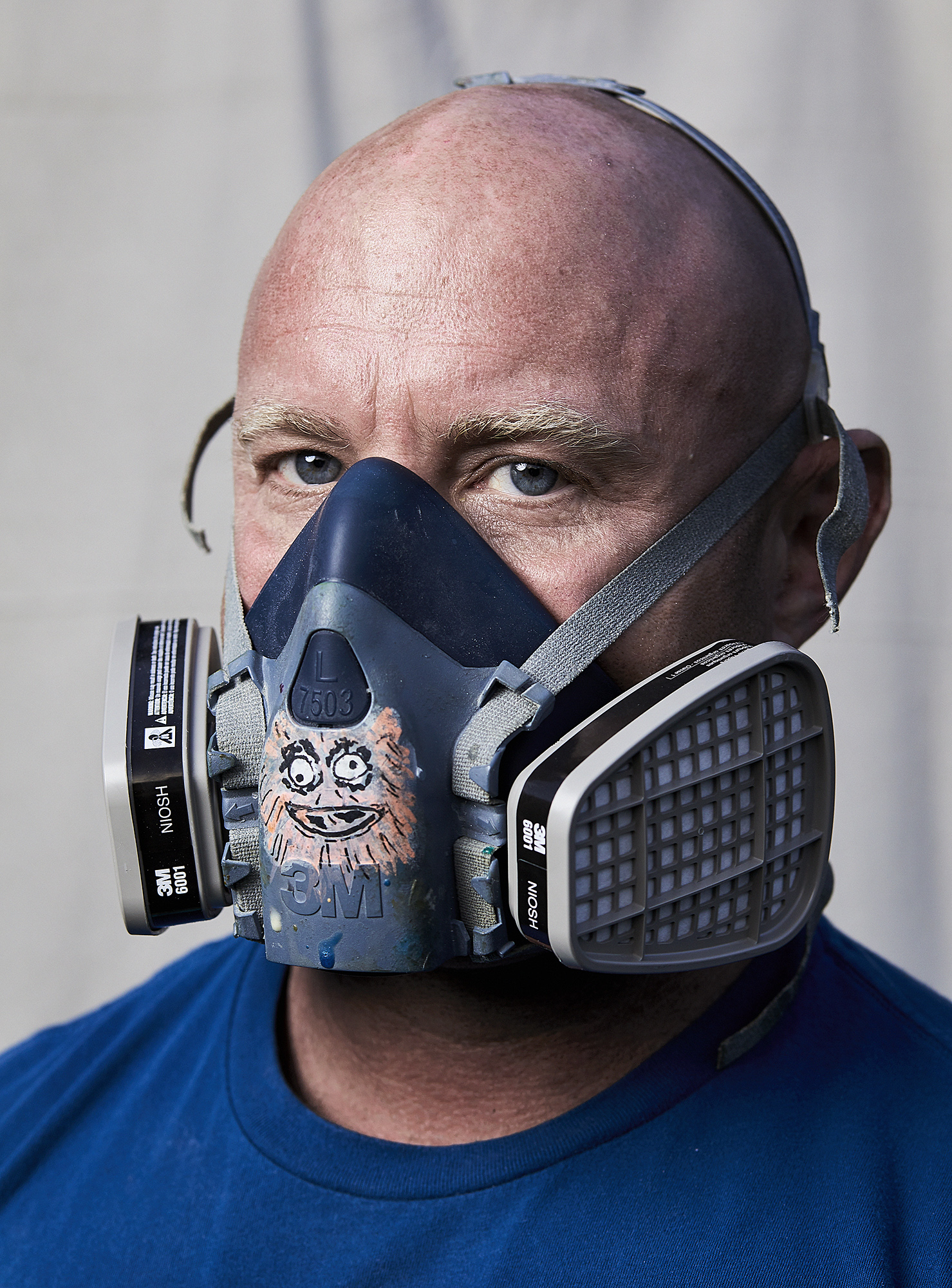 New Jersey pro and Rusty teamrider Dean Randazzo helped the freshman enroll in the University of Santa Fe — Street, that is, which hosts a number of San Diego's busiest surfboard factories — where Wynn began sanding, then laminating for various labels, albeit on similar types of boards. "Glassing Rustys, Sharp Eyes and Xanadus for years, it was all 18 1/2" wide, 2 1/4" thick thrusters with glass-on fins," Wynn remembers. "Then Joel started having us glass some boards from his label."
That would be Cardiff's Joel Tudor, surfing's "rebel without a pause" who cross-stepped and hung ten his way through the 1990s' high-performance Momentum era and continues to champion the art of traditional longboarding to this day. Less well-known, however, is Tudor's role in reviving the abstract resin art form, having picked up the squeegee from the late Donald Takayama, who long favored the kaleidoscopic color schemes.
"He came in one day and said, 'Hey, why don't I teach you how do an acid splash,'" recalls Wynn. "He had learned from Takayama, so he guided me, gloves on, showing me how to mix and pour. In fact, my first abstract was on one of his personal boards, which is something not many people can say. But I'd only been making clear boards, so this was totally new. It intrigued me, because the possibilities seemed endless. And with the resin work, my whole way of thinking about surfboards changed."
Moving back to his Egg Harbor barn in 2004, Wynn's abstract resin work continued to evolve along with his shaping, developing his own distinctive stamp in both mediums. "Just like with custom shaping, the abstracts give you the opportunity to do new things, to use your imagination," he says. "It makes you feel like an artist."
And a bit more like his old man, you can bet.
***
Alex Villalobos, G&S/LSD, San Diego, CA
There's a good reason why a freshly shaped surfboard is called a blank. Recognizable, even eye-pleasing in form, yet presenting, with its featureless expanse, a form void of any individual self-expression. Quite literally a blank canvas. Under the squeegee of Alex Villalobos, however, that blank becomes a space where imagination can run wild — both the artist's and the lucky surfer who gets to own one of Villalobos' wildly creative creations.
Widely regarded as one of the top laminator/pigment artists in the business today, Villalobos began his apprenticeship in the mid-1990s, when, after having migrated from his home waters in Miami Beach, a buddy landed him a gig at Moonlight Glassing in Encinitas.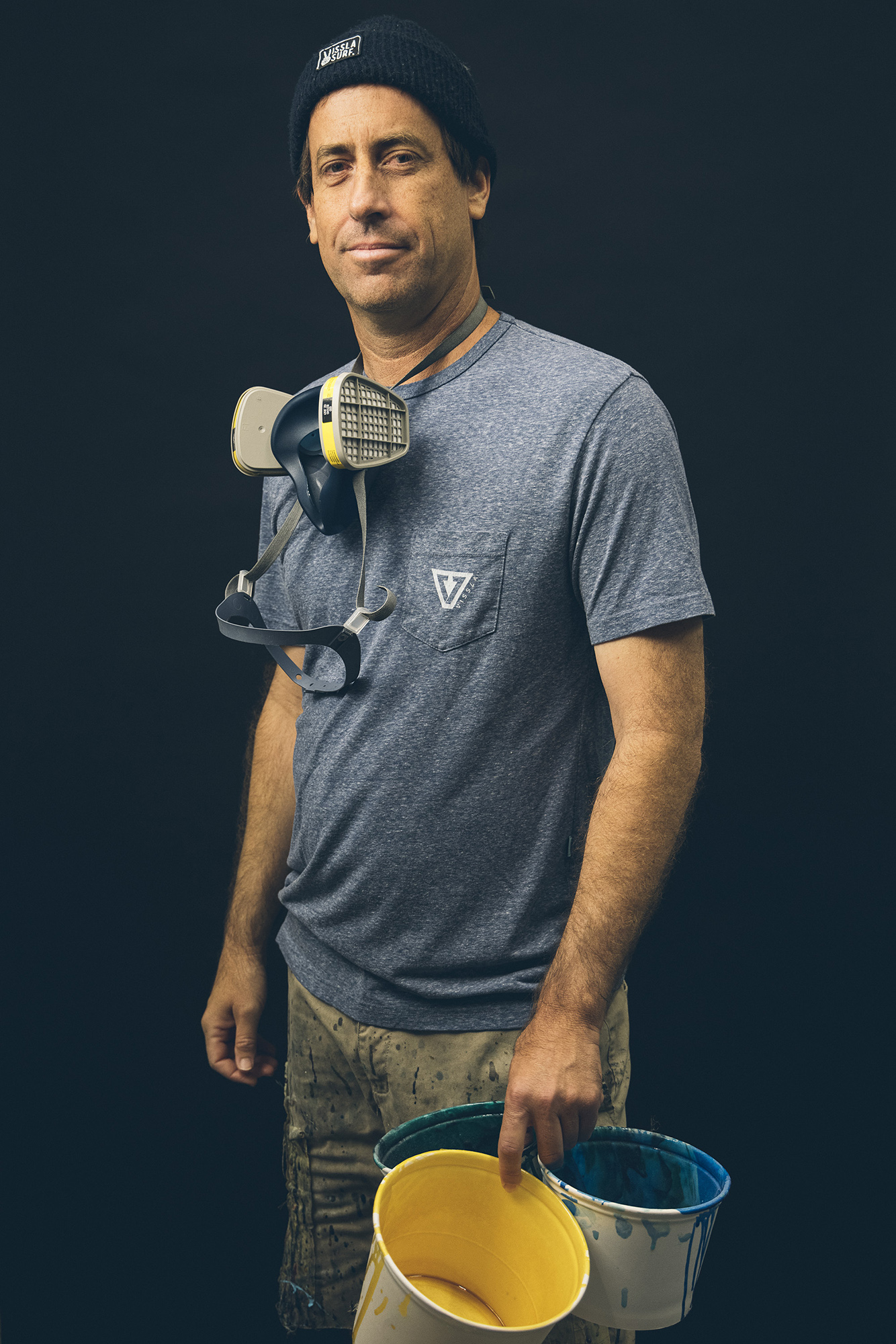 "Without having any real experience, I started out doing the satin-finishing," says Villalobos, who at a broad-shouldered 6'2" looks more the athlete than the artist. "Then eventually I worked my way up to hot-coating. Moonlight had the whole crew back then, but it was Gary Stuber who I first saw doing the abstract stuff. I watched him until he eventually let me loose on a few, and that's kinda where it started."
Villalobos went on to hone his skill and creativity alongside laminating legends like Peter St. Pierre, Tony Channin and Tom Eberly — a veritable master class in surfboard building. "I was real lucky with the timing of that," says Villalobos. "Especially beginning work with Tom [Eberly] in 1997. He was doing  resin colors when everyone else was into airbrush. The industry just wasn't geared to pigment. So Tom really gave me something to lean on creatively, and it's where I really learned all about mixing resin and pigment. If Moonlight was high school, Eberly's was university."
Although Villalobos' career path is steeped in history — "all those guys who nurtured me were always telling me stories about glassing for G&S, Sunset and Caster back in the day," he laughs — it was a relatively new influence that set him on his current path.
"Right about 2000, Joel Tudor was looking for a glass shop that would do the resin colors," Villalobos recalls. "He went from factory to factory and nobody was into it — they were all doing airbrush. I think we were the last guys he came to, and we said, 'Yeah, let's do it.' So we were doing a ton of those for a long time."
That relationship paid off years later when Tudor introduced Villalobos to Ryan Burch, another young Cardiff regular whose preternatural talent on an eclectic range of surfboards, from tiny fishes to 12-foot gliders, reflects a positive trend toward individualized surfing expression, as does the freeform pigment artwork that has become his hallmark.
"Yeah, I really hit it off with Ryan," says Villalobos. "He's one of those super creative guys whose imagination isn't limited by what anybody else thinks he should be doing." 
That statement could just as easily apply to Villalobos himself, who regularly spins the color wheel until it's dizzy, producing one-of-a-kind resin work that runs the gamut from spaced-out constellations to psychedelic waterfalls to pastoral pastel fades. And on every board, the artist's eye and hand bend to a single application: taking a blank and, with a bucket of resin, giving it not just a personality, but a whole lot of soul.
***
Up Next: The Dragon Resin and Soul Challenge
We've picked the three talented artists above who'll each receive a custom Rob Machado shaped blank to be colored in the manner of their choosing — the finished boards will then be donated to nonprofits of their choice. Next, help us pick a fourth artist in the Dragon Resin and Soul Challenge via Surfline's Instagram. We'll create a post that includes the talent pool below for you to choose from —  tag your preference in the comments beneath the post. Alternatively, if there's someone not on the list you'd recommend, be sure to let us know and tag them. We'll tally up the results/feedback and the most requested artist will be joining Alex, Mica and Brian in glassing one of the four Machado hand-shaped blanks.
***
Resin and Soul, a series presented by Dragon in four parts, is in homage to the creative craftsmen and women who continue to make abstract resin art an essential form of surfing self-expression. See part one here.