Maltz Performing Arts Center nears completion | Local News
4 min read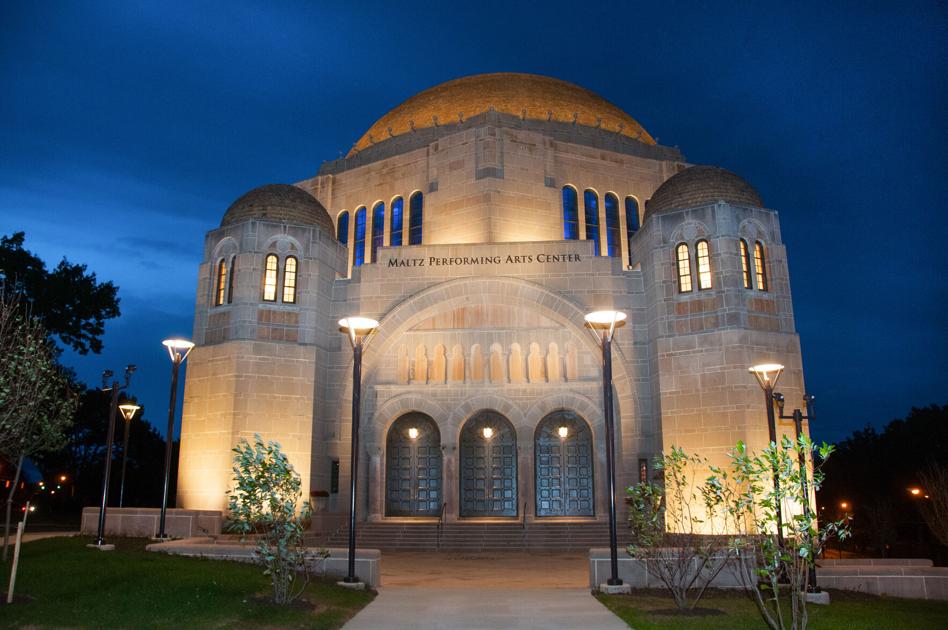 Almost 100 years ago, The Temple-Tifereth Israel completed its new home in Cleveland for its thousands of members.
The Byzantine-style building with its unique heptagonal shape and large gold dome became a well-known jewel of Cleveland, even after a majority of the temple's activities and services moved to its Beachwood branch in the 1970s.
The former TTTI building at East 105th Street and Ansel Road is now home to the Milton and Tamar Maltz Performing Arts Center through a partnership between Case Western Reserve University and the temple.
This fall, the center's second phase of renovations will be complete, and hundreds will gather inside the historic building again – this time for theater, dance and music.
"We've been working on this project for a long time, obviously with the phase one first and then the phase two plans," said Jerrold Scott, the Katharine Bakeless Nason Professor of Theater, and chair and artistic director of Eldred Theater at CWRU. "This is nothing short of miraculous – without using too much hyperbole – to have this building."
The two-phase renovation project first started in 2010 when Cleveland-area philanthropists Milton and Tamar Maltz, through the Milton and Tamar Maltz Family Foundation, committed $12 million to transforming the 1924 landmark from a building dedicated to religion to one focused on the arts – and to raising the cultural profile of CWRU. Four years later, the Maltzes raised their commitment to $30 million in a combination of foundation and family funds.
Aside from the Maltzes, the largest donors also included Roe Green, and Walter E. and Jean C. Kalberer.
Phase one kicked off in 2014 and finished in 2015. The first phase reconfigured Silver Hall – which can seat 1,200 people, brought the building up to code, doubled the number of bathrooms, installed an acoustic canopy, added sound and light control rooms and made almost the entire space accessible per the Americans with Disabilities Act.
Phase two broke ground in October 2019. The project will bring a new, state-of-the-art home to CWRU's department of theater; office space for the department chair, administration and undergraduate and graduate students; and a revamped location for the university's Masters in Fine Arts Acting Program.
Phase two also includes a black box theater with 150 movable seats, the Roe Green Proscenium Theater with seating for 250, a 2,000-square-foot grand atrium and foyer with a cafe and coat check for all three theaters, rehearsal studios, practice rooms and costume and scene shops.
Education served as the project's most important factor, Scott said. He said the plans for the space went through numerous iterations with continued discussion amongst CWRU's administration, theater department and faculty, stakeholders and architects.
"There was a real emphasis on making sure this was a educational space, first and foremost, and then everything else would sort of follow from that," Scott said.
Joy Ward, dean of the College of Arts and Sciences at CWRU, said that the altered building will cater to the theater department's interdisciplinary abilities and needs. Classes will offer lessons in science, humanities, technology – even math.
"We actually have the academic expertise to support some of the interesting areas of the theater that we're developing, so it's a really rich area," Ward said. "I hope the community really takes advantage of both phases in different ways and uses the space as a central part of our now famous and top art district."
The project's construction wasn't impacted by COVID-19, in fact, Ward said that phase two is a little ahead of schedule. The moving-in process will start in August as the project nears completion.
When the space is completed, Scott said the department will look for continued ways to collaborate with the community and the arts industry, like through its partnership with Cleveland Play House.
TTTI will continue to be able to use the building for High Holy Days and major events.
To Scott, the project is "a game changer" for what it accomplishes regarding the university's message and the theater department's capabilities.
"It's worth remembering that there's never been a building built on Case's campus for the performing arts before," Scott said. "I think this really signals a lot in terms of the university's commitment to the arts and humanities, as well as our strengths, obviously, in STEM fields – that we truly are a comprehensive university, and there's a physical symbol of that."
Ward looks forward to a fruitful future for the Milton and Tamar Maltz Performing Arts Center.
"Thanks to the Jewish community in allowing phase one to move forward with this beautiful space in that collaboration, and now with the more educational side, we have something that I don't believe anyone else has because of that combination."